About
Hugh Blemings's Blog, A Diary and Miscellaneous ramblings


Views
PDA Friendly View
Sections

Links
Some random (and not so random) links.
A press release for our machine just went up on power.org to coincide with the developer conference in Austin this week.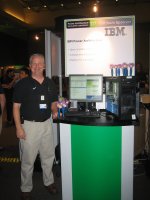 Photo courtesy of Dave Willoughby Photography :)
Brian, Nathan, Ian, Dave, Kaveh and a cast of many put in some hard graft to have the machine ready - the box they demoed was one of the production prototypes so is very close to what will be available. Other thing that is nice is it's using an open source driver for the XGI card, only the card init is done through x86 emulation code running in the bootloader.
Thanks to the folk that wrote after my earlier post, will be staying in touch as we get closer to availability.