One of our prototypes is missing

Finally catching up on things so a few words about OLS this year. A highlight for me was a BoF we ran for Linux on POWER - we had Freescale, PASemi, Terrasoft Solutions and Sony there in force along with our own little display.
Our own little display ended up being a bit of a story in it's own right. For some time now I've been working with some colleagues to get a viable, low cost PowerPC developer workstation out, kinda filling the gap left by Apple's move to Intel.
Thursday night was to be our big debut but, alas, we were thwarted and our machine spent the evening of the BoF in the no doubt salubrious surrounds of a bonded warehouse at Toronto airport. Improvisation was the key so an appropriately labelled cardboard box was pressed into service...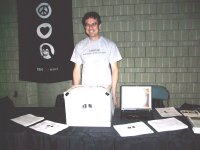 Happily the next day it made it to Ottawa and the OLS guys kindly let us show it off anyway.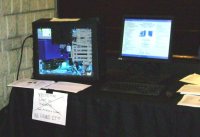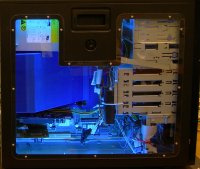 Thanks to Brian Cwikla for these photos, RGB has a few up from the BoF here as well.
So the long and short of the box is that it's a four way PPC970MP design (that's two chips, two cores per chip) clocked at 2.5GHz with a coupla gigs of 667MHz DDR2 RAM, Hard disk, XGI XP-10 Graphics (Open source drivers - suweeet!) which we plan on having out toward the end of the year. We expect it to be quiet enough to be able to sit under your desk without driving you nuts. I want one myself and I hate noisy machines so I'm kinda pushing this angle :)
We're still finalising how we will get them out into the market since it's a limited production run, but we're aiming to have them on people's doorsteps at a hacker friendly price. FWIW you can send me an email and I'll make sure you get updates.
The BoF was lots of fun and to my thinking the rest of OLS was as good as ever, great technical content and always nice to catchup with friends in the community too.